EXPERIENCES
Feeding Those Who Have Been Largely Forgotten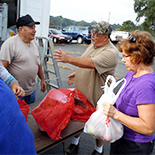 The Tripura Foundation's gifts have been an incredible blessing. They have enabled us to maintain a presence in some of the most economically devastated communities in our region.
These are communities with high food insecurity and few resources to fund the Mobile Food Pantry distributions that can address that need.We can confidently say that the Tripura Foundation is feeding those people who have been largely forgotten.

Breaking New Ground in the Fight against Hunger
This month, the Tripura Foundation doubled their gift to Feeding America West Michigan, empowering us to distribute food in communities that would otherwise have gone without.
Two of these communities had no other source of funding for this food, while the other is in a remote corner of our service area that has never seen a Mobile Food Pantry before.
The Tripura Foundation is truly breaking new ground in the fight against hunger in West Michigan and the Upper Peninsula

In honor of Thanksgiving – 20,625 Meals will be Served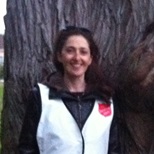 We usually give a donation that serves approximately 6,875 meals per month, this month with additional funds we will be serving approximately 20,625 in honor of Thanksgiving to help the most needy in NYC.
Families that may not have had a holiday meal or any vegetables will now be able to feed their families on these special days
Tripura Foundation's Generous Support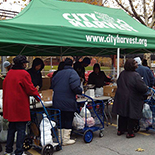 We are so grateful for the Tripura Foundation's generous support of City Harvest and their commitment to the fight against hunger in New York City.
By tripling your November donation, Tripura and City Harvest will provide 930 low-income households with access to fresh, free produce in the week leading up to Thanksgiving, nearly 200 more households than we would regularly serve.
Thank you for this tremendous support.
Food Distribution on 9th November to Over 100 People
The Feeding America West Michigan mobile pantry arrived in Belding, Michigan on a chilly, windy day November 9th. People arrived two hours earlier and fortunately Belding Bible Church invited the more than 100 people inside to sit and stay warm as volunteers unloaded the truck and moved the food onto the tables inside the gymnasium.
The volunteers were a joyful group as they helped with the food distribution. Today, Tripura Foundation provided over one hundred grateful people who are struggling to feed their families with potatoes, apples, squash, lettuce, milk, yogurt, crackers, cookies and cakes. Thank you Baba for your gift.
Providing 1500 meals and 4000 Snacks each Month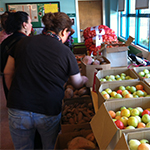 In October, we visited San Francisco Food Bank's Healthy Children's Pantries for our Million Meals of Hope Campaign. Our monthly donations are providing 1500 meals and 4000 snacks each month through the San Francisco Food Bank.
It is inspiring to see these foods presented so beautifully for people to choose what they want and need: fresh produce rice.
The morning snacks we contribute to for some kids are their only breakfast and these are greatly appreciated!.
Jelena Jill Mijanovic, New Jersey, USA
We prepared several hot & cold vegetarian dishes and served them to 40 people currently in transition in Sussex & Morris Counties.
Tonight's theme was Mediterranean style, so we had pita bread, a Greek salad, a veggie primavera dish, lentils with veggies, baked apples with cinnamon, etc
My sister-in-law made homemade oatmeal raisin cookies.
One of my best friends Alicia donated a cake and brownies.
So, there was plenty of dessert after the "feast."
Support those in need
All who would like to join us serve those in need; you are welcome to join our team.
We will continue to serve in this capacity once a month.
Heartfelt Story of A Volunteer in Los Angeles, CA.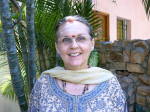 Heartfelt words of a volunteer on ` God Provides Native American Food Bank`, in Los Angeles County, a Tripura partner:
"People come from as far away as Arizona, to get family packs. Local people know they can bicycle over and get a sandwich for lunch.
Food goes out to their skid row kitchen that feeds 1800 people a day in a truck driven by an ex-con, who is integrating back into the community with a job he is proud to do.
A mom drives up in a station wagon. She has several teenagers and cannot feed her family without the Food Bank.
A man comes to pick up food for his temple which does a feeding program.
I helped prepare boxes of fresh produce from grocery store donations. Less produce going to waste results in less methane gas into our atmosphere. And the work is done by hand every day."
Message of Gratitude:
"Thank you to all Tripura donors. Your donations help purchase dry good staples like rice and beans that give families with food insecurity many meals."
Feeding 3000 People in Singapore on a Sunday Morning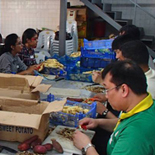 Dr. Pillai's community members gathered at Willing Hearts soup kitchen. A week earlier, we raised funds to purchase food ingredients – 90 kgs of rice noodle, 240 cans of braised vegetables, 24 kgs of dried bean curd, and 24 cans of sardines.
Many volunteers – from kids to the elderly – cut cartons of vegetables, and cooked tons of rice, noodles to prepare lunch. The lunches were packed into boxes and delivered to 38 locations for distribution. For many of us, it was a first time and very heart-warming experience to prepare food on a massive scale to feed 3,000 hungry and needy.
Several of us were so touched by their experiences, that they blogged to encourage others to contribute towards this worthy mission. They were so grateful to Dr Pillai for this opportunity to serve the less fortunate. We hope that many more will stand up and be counted upon to contribute to a Million Meals worldwide.
Tears of Joy from the Feeding in San Francisco, USA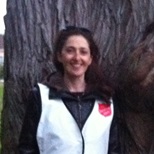 When I volunteered in San Francisco one evening, we were able to give food to hundreds of people who were living on the streets.
I was moved deeply by the gratitude reflected back from those who received the food, so many smiles and tears of joy and pain.
These experiences strengthen my commitment to continue to help everyone on the planet be nourished and fed. Thank you Tripura, for the opportunity to help in big and small ways every day.
A Donor Taking Action against Hunger from San Diego, USA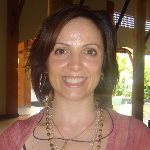 It was Tripura Foundation's 2013 launch of Million Meals of HoPE that opened my eyes and heart to the travesty that happens every day on this planet – people go hungry and even die from starvation.
What is most heartbreaking and frustrating is that this "disease" is 100% curable! With my busy schedule, I am not always able to feed others or go to soup kitchens, so I take comfort in knowing that Tripura Foundation will do this on my behalf.
I am confident that every $1 that I give creates 3 more meals that would not have been available. It brings me joy to know that someone is taking this action on my behalf for the sake of those who need it the most.
Caring for the Homeless in California, USA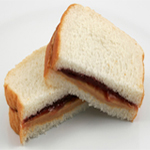 On the Guru Purnima Full Moon of 2013, my husband and I made peanut butter and jelly sandwiches, and gave them to about 30 homeless people at a local park.
On the way back home, we found a couple more hungry people. When handing them the sandwiches, one man smiled and exclaimed, "Oh, that is so beautiful".
It was a very heartwarming experience, and at the same time it was heartbreaking to see so many people suffering in poverty.
A Great Day at Antonio Olivieri Shelter in New Jersey, USA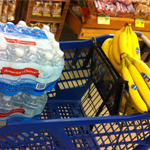 My Guru Purnima was great, completely different than I had originally planned.
I brought 3 cases of bottled water and several dozens of bananas to the Shelter, which were then given out to the people who came there throughout the day. It was a great day!!!
Wonderful Time Giving 175 Meals in Toronto, Canada
No sooner had we gotten the trunk open with the food to hand out, the homeless came out of nowhere and everything was gone within minutes!
We were carrying goodie bags with sandwiches and treats, with several volunteers from Toronto. Each one of us had an amazing experience and we are all so grateful to be able to do this.
We are planning on going out again. Thanks so much for your continued unwavering selfless service to this world! Much Love and Grace Light!
2000 Hungry People Fed at NYC Food Bank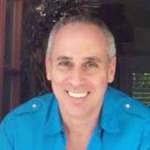 In celebrating Guru Purnima, and in honoring Dr. Pillai's commitment to end hunger in the world, I partnered with the Tripura Foundation by donating to the Food Bank for New York City to feed 2000 people.
Food Bank for NYC is a major hunger-relief organization focused on ending hunger throughout the five boroughs. I was excited to learn that every dollar donated purchased 5 meals.
Feeding by Dr. Pillai's Students at Vadalur, India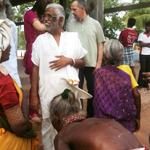 Dr. Pillai and some of his students traveled to Swami Ramalingam's ascension location, Vadalur, India, on Guru Purnima (July 22nd, 2013).
We gave out 54 full course meals to locals living around the sacred site. The woman in the foreground is not bent over intentionally, but is crippled in that position.
A celebration of the village deity Karuppasamy was happening at this time (not known to us in advance). This deity is known not to want offerings for him, but only that we feed his people.
How appropriate that the day of the kick-off of this feeding initiative was marked by both Ramalingam, known for his compassion and feeding humanity, as well as Karuppasamy, the Protector of the People.
150 Meals Given to Homeless in Chelmsford, England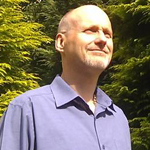 I heard a call requesting help feeding the homeless a few Sundays ago and was inspired. 150 meals were given to the homeless and needy in Dr. Pillai's name.
This happened in weeks running up to and including 22 July in Chelmsford, England.
3 Generous Women Feed Immigrants from Three Nations in Mexcali, Mexico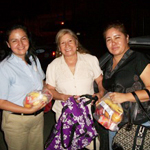 Three ladies got together and made 144 bags containing: 1 mango, 1 or 2 oranges, 1 granola bar, 1 banana and/or juice.
They delivered the bags to immigrants from Mexico, Guatemala and Belize, and children in the outskirts of Mexicali.
57 Men's Homeless Shelter Residents Fed in Pittsburgh, PA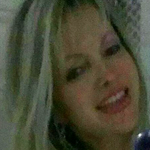 Guru Purnima feeding went well! Dr. Iyer & Akila Iyer purchased the food and prepared the sandwiches at their house on Sunday and I delivered them on Monday to St Joseph's House of Hospitality (a Catholic Charity) to supplement the men's lunches (57 residents).
The delight on their faces really touched my heart. The shelter is in Pittsburgh Hill District, a very poor predominantly African American neighborhood near downtown PGH. It was heartbreaking to see men, mostly in their 60's, but some younger, without teeth and fairly disheveled.
Some were obviously mentally challenged, but the heartache dissolved when I saw their smiling faces! I was glad that our efforts brought smiles to not only the residents, but to the staff as well. Everyone was so appreciative. Praise Dr. Pillai for the opportunity to serve our community in this way! We look forward to doing it again.